Book Pre-Launch in Guangzhou!
2014/3/27
Mark's memoir pre-launch in Guangzhou on Dec. 19th attracts global media attention
.
Mark's memoir, and his second book, Cultures: My Personal Odyssey of Self-discovery, took more than 6 years to complete. "I wanted my book to have 3 goals:," Mark said, "to tell my own story, and not have others tell it for me, including my relationship with my brother President Barack Obama; tell more about the Obama family from an insider perspective so as to correct several misperceptions about our family; and finally, show how Kenyan, American and Chinese culture helped transform my difficult and bumpy road as a mixed race child into one of finding happiness through service to others and music. I hope this book will inspire others and show that we all can evolve from our mistakes and meandering paths." The book is published under the imprimatur of the Mark Obama Ndesandjo Foundation Ltd and will be launched globally in late February of 2014. " In addition to announcing a cultural exchange collaboration between his foundation for cultural exchange and Hua Yi, China's third largest art auction house, Mark auctioned his calligraphy to help fund the education of needy art students. The fair is a venue for over 7000 graduate students to present their work to a global audience.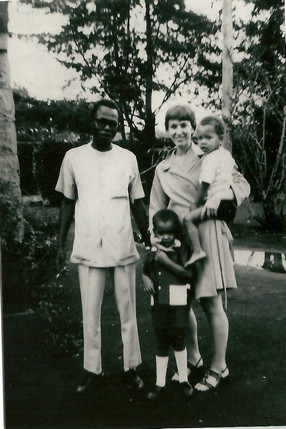 Mark's Speech


This announcement is not only about my book but also about the Guangzhou Graduate Art Fair. My new foundation, the Mark Obama Ndesandjo Foundation Limited, is honored to receive its support. I hope all who are listening will also help this wonderful effort to share and promote culture among the young. I have some calligraphy that I will be donating to the fair to help needy art students.

I am very happy to announce that my second book Cultures: My personal odyssey of self-discovery, is finally complete. The book is published by me with the imprimatur of the Mark Obama Ndesandjo Foundation Ltd and the English version will be available in global markets in late February. The Chinese version is due in fourth quarter of 2014. Please note that a portion of profits from this book will go to the Foundation to support cultural exchange efforts as well as to organizations that help the disadvantaged and bring art to children worldwide. Some of you already have excerpts and today I wanted to share with you a little of what it is about.

I want to tell my story, and not have others tell it for me.

My book is about my experiences in 3 cultures, Kenya, America and China. It is about the Obama family, and also about my relationship with my brother, President Barack Obama.

I have often wondered about my brother, and my father.

Our story starts about 50 year ago.

One day In the early 1960s my father met my brother's mother in Hawaii and not long after she conceived Barack. My father went to Harvard where he soon met my mother. Shortly afterwards I was conceived. My brother and I were born just a few years apart, both Americans, with white mothers and the same father, one child from each mother. I often wonder why it is that we two mixed race infants did not grow up together in America. We were, from the beginning, almost the same. We ended up two babies torn apart from each other, by our father.

Conflict also colored our first meeting, almost 25 years ago. I hated my father, and felt Barack admired him. Barack thought I was too white and I thought he was too black. Why did he think this?

There is a lot in my memoir that explains this and similar questions:

Why I feel my brother often does not accept me
Why Michelle called me the wayward one
Why I felt Barack did not want me to discuss domestic violence in our family with others
My father's secret life in America
My mother and father's love story
How Barack and I met for the first time in 1988 and why he denied it in an interview two years ago
My love story in China
How my wife and a dream made me link up again with my brother after 25 years
Barack's book has many mistakes and what they are
The Obama family tree from 1700
How I loved skydiving and crashing cars
I was a bad student, suffered great pain at Stanford and treated women badly
How my stepfather gave me my name, who he was and why I loved him so much
How the myth that I have BBQ restaurants (I do not) started
Why my mother was almost killed by her husband
What is the relationship between the 4 brothers and 1 sister and my late brother David.
The First Inauguration
What did Barack really say and think about China
My visit to Israel as a Jew
The White House from the inside.


With this book I want to also show others that president's families are not that far removed from their lives and experiences, that we too live through very challenging problems that can be resolved.

I have seen babies torn apart by violence and neglect. As babies, Barack's eyes were full of life and hope, and mine were tinged with a bittersweet innocence. Then we were separated and we followed two different destinies. No longer babies, Barack and I are still recovering from that. He from the absence of a good father, and I from the presence of a bad one. For me the recovery started, twelve years ago, when the little orphan in Shenzhen with the big black eyes looked up at me, grasped my finger and would not let go.

As you know I found love through a partner in my wife, Xue Hua. In fact, it was Xue Hua who made me reconnect with Barack after a long separation. During the campaign I woke up one night in a cold sweat. I had a nightmare about Barack being hurt. What she said then changed my life. My brother and I hugged the next week.

This is a story about China, about love, and about family. I am grateful to the Chinese people who gave me fresh insights, through their traditional culture and art, into knowing myself, and understanding the importance of family, in all its flavors. I was born in Kenya, lost my way in America, and found myself in China, through helping kids, and art.

I have tried to be as honest as I can in my memoir, and to show the pain and the joy of living in different cultures and in a challenging but inspiring family. I hope that young people in particular will be able to learn from my mistakes, and avoid some of the pitfalls that lie ahead on their particular paths through life. Perhaps some of them may even be inspired to be of service to others, and achieve their dream, as I have.

Thanks