| | | |
| --- | --- | --- |
| Music | | |
| | | |

Music has been a guiding force throughout Mark's life. To him it is a form of meditation, allowing him to express himself more fully than any other medium. This page introduces some of his piano recordings. The scope of his musical interests covers mostly classical music and his own compositions.
Video Performance of Viper's Drag
Although my focus is on classical music I have performed this popular piece by legendary jazzman Fats Waller a number of times.
The Untimely Ones and The Divine Comedy: Piano Music composed and performed by Mark Obama Ndesandjo

Note: Since Amazon no longer supports MP3 downloads we are looking for another online distributor. Please be patient. In the meantime please contact us at support@markobamandesandjo.com if you want a copy sooner. Thanks!


Kurosawa's epic movie Ran produced some of the greatest fusion of music and drama of the twentieth century. - Mark Obama Ndesandjo




The Untimely Ones is a compilation of Romantic piano works, including several by the composer Frederick Chopin. A great improviser, Chopin would create dreamy intrigues of the spirit with his accomplice the piano. Listeners in adjacent rooms would stop their conversations and children would look up from play to hear his marvelous music. Afterwards, manuscript paper before him, he would try to capture these splendid ideas. As elusive as these thoughts were, in spite of his ranting and raving, in spite of the hair that he pulled at in frustration, a work would at last be born for the ages!

Mark's own compositions are also reproduced here as he created them, in spontaneous performances in his New Jersey Studio, over ten years ago. Incidentally, Hal refers to the baleful computer in Peter Kubrick's 2001. Untimely Ones and Kurosawa are inspired by the German Poet Friedrich Nietzsche and the Japanese film director Kurosawa, respectively. The two pieces by J.S. Bach and Rachmaninoff are not very well known but etch deep patterns in one's soul.

William Blake was a great English painter who produced some remarkable works, often mystical and prophetic in nature. On a visit to the Tate gallery Mark saw some of his works. A set of prints described the scenes from The Divine Comedy, the great workof the Rennaissance poet Dante. Inspired in turn, he set the images to music in compositions for the piano! Enjoy!

In the middle of the road of my life, I awoke in the dark wood where the true way was wholly lost. - Dante Alighieri




Born in Kenya and a fifteen year resident of Shenzhen, People's Republic of China, Mark Okoth Obama Ndesandjo is an accomplished American pianist, writer, artist and businessman. He is Adjunct Professor of Arts and Media at Beijing Normal University and has a BSc. Physics (also completed BA math requirements) from Brown University, an MSc Physics from Stanford and an EMBA from Emory. He is an HSK L7 (advanced) Mandarin speaker and writer, and an avid brush calligrapher.
His business advises investors aiming to link Asia, Africa and the USA, using over 25 years of communications and international branding experience gained as a senior manager at Lucent, Nortel and other companies.
In addition to his first book, Nairobi to Shenzhen, he has completed a memoir, An Obama's Journey, and published 3 piano CDs, The Untimely Ones, Night Moods and his own composition Reflections on William Blake. His current projects include translating to English the complete works of Tang Dynasty poet Li Shangyin. Mark has been regularly volunteering piano lessons to orphans in and around Shenzhen since 2002. He is Shenzhen's Volunteer Image Ambassador and China's Special Olympics Image Ambassador, as appointed by the Chinese government. Mark is also Image Ambassador for the France-China Cultural Forum. Recently he established the Mark Obama Ndesandjo Foundation Ltd for cultural exchange, whose goal is to bring art to youth and the disadvantaged.
About the Novel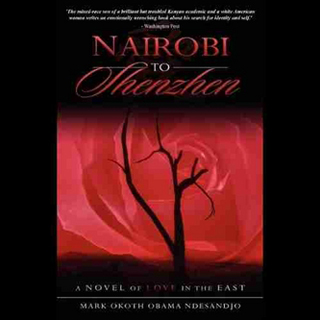 The protagonist, upon arriving in China in the wake of 911 and the onset of a terrifying global war, is forced to confront his early experiences in Kenya and the United States as a result of his growing love for a beautiful Chinese woman and a young orphan. Parallels between his own upbringing and the potential family that lies before him lead to questions about his true identity, the complexities of his multi-racial family and the relationship he had known with his father. 15% of profits from book sales are donated to help disadvantaged children.