| | | |
| --- | --- | --- |
| Support Us | | |
| | | |

Born in Kenya and a fifteen year resident of Shenzhen, People's Republic of China, Mark Okoth Obama Ndesandjo is an accomplished American pianist, writer, artist and businessman. He is Adjunct Professor of Arts and Media at Beijing Normal University and has a BSc. Physics (also completed BA math requirements) from Brown University, an MSc Physics from Stanford and an EMBA from Emory. He is an HSK L7 (advanced) Mandarin speaker and writer, and an avid brush calligrapher.
His business advises investors aiming to link Asia, Africa and the USA, using over 25 years of communications and international branding experience gained as a senior manager at Lucent, Nortel and other companies.
In addition to his first book, Nairobi to Shenzhen, he has completed a memoir, An Obama's Journey, and published 3 piano CDs, The Untimely Ones, Night Moods and his own composition Reflections on William Blake. His current projects include translating to English the complete works of Tang Dynasty poet Li Shangyin. Mark has been regularly volunteering piano lessons to orphans in and around Shenzhen since 2002. He is Shenzhen's Volunteer Image Ambassador and China's Special Olympics Image Ambassador, as appointed by the Chinese government. Mark is also Image Ambassador for the France-China Cultural Forum. Recently he established the Mark Obama Ndesandjo Foundation Ltd for cultural exchange, whose goal is to bring art to youth and the disadvantaged.
About the Novel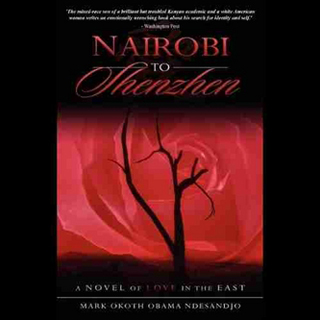 The protagonist, upon arriving in China in the wake of 911 and the onset of a terrifying global war, is forced to confront his early experiences in Kenya and the United States as a result of his growing love for a beautiful Chinese woman and a young orphan. Parallels between his own upbringing and the potential family that lies before him lead to questions about his true identity, the complexities of his multi-racial family and the relationship he had known with his father. 15% of profits from book sales are donated to help disadvantaged children.